"
Habemus Papam!
"
(We have a Pope!)
-
the new Pope appears on the window of the Vatican (October 16, 1978)


It is with great sorrow that are informed of Pope John Paul II's demise today, April 4, at a little past 2 in the morning.
26 years of his papacy will be written in so many ways from today. Indeed, never has there been a modern Pope who has done so much in making life more meaningful than John Paul II. Be it in politics, with him playing a major role in the fall of Communism in Europe (not much success in China, however) and in the affairs of the soul, his work, words and his very life provided us reason to hope that yes, man indeed can be good and caring and loving despite the raging issues that beset one's everyday living.
I haven't had the chance to see him personally. I was supposed to attend the World Youth Day in Manila but my Biology thesis had to be attended to as soon as possible. At any rate, we did see his arrival on giant screens located in many areas of the Ateneo, and how we were teary eyed at the moment he appeared on Alitalia's doorway, on the start of his second visit to the Philippines. My Japanese friends are ecstatic because he didn't get to visit Japan as extensively as he did the Philippines. I read his CROSSING THE THRESHOLD OF HOPE in High School and I consider it, along with VATICAN II and The Secret Archives, as among my favorite books related to the Church. Heck, he became Pope on my 4th birthday!
John Paul II became pontiff in 1978 - the "year of the three popes." His predecessor, John Paul I, had been pope only 33 days, succeeding Paul VI, who died after a 15-year reign.

At 58, John Paul II was the youngest pope in 125 years. He brought a new vitality to the Vatican, and quickly became the most accessible modern pope, sitting down for meals with factory workers, skiing and wading into crowds to embrace the faithful.

A Pope of the People, we may call him. Many will grieve over his passing, and many will be nonchalant about it. He has ruled on several sticky issues with finality which has earned him both respect and derision from those affected by it, but such is the workings of the Church. It is up to you to accept it or not, but what is important is that he has made clear how the Church sees it.

It takes faith, really.


As someone who loves doing things in conjunction with great events or Church holidays, he left us on the eve of the Feast of the Divine Mercy. Perhaps it is only fitting that we are reminded of this particular special day: that Christ's infinite divine mercy is always open to us.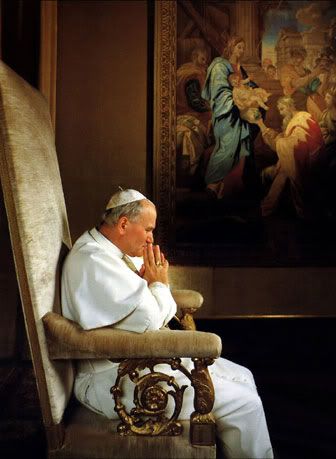 Farewell, dear Father. Thank you so much for everything. The world will be so much better because of you. You will be terribly missed.
Arrividerci! Till we meet again!
"I came for you, now it's you who have come to me. I thank you."

- PJP2's final message to the youth from his deathbed